Lamborghini Huracán EVO | North Miami Beach, FL
The 2020 Lamborghini Hurac

á

n EVO Coupe | North Miami Beach, FL
LIVE EVERY DAY AMPLIFIED
»
The Huracán EVO represents the natural evolution of the most successful V10 in Lamborghini history. It is the result of fine-tuning and consolidation which involves the already existing features and performance of Huracán, combined with the development of new solutions in terms of efficiency and design. But overall this vehicle stands out for its ability to anticipate the moves and satisfy the desires of the driver, in harmony with the Lamborghini DNA.
The design of the Huracán EVO does not present a radical change in the original iconic shape and proportions, rather it represents a natural evolution that introduces sophisticated aerodynamic solutions, while remaining faithful to the iconic Lamborghini design. The front bumper adopts unmistakable Lamborghini design cues such as signature Y-shape stylistic elements, bonnet lines inspired by the Countach, skirt air ducts reminiscent of the Murciélago, and high-mounted exhaust tailpipes that recall the highest performing models of the Lamborghini range. The model also introduces the new 20" Aesir rims and debuts Ad Personam colors for the car body, including Arancio Xanto [Orange]. These elements produce an evolution projected towards the future that does not forget the past.
The interior perfectly mirrors the evolutionary design of the Huracán EVO. The cockpit features a cutting-edge 8.4" touchscreen system built into the central tunnel, which makes it possible to control the car and entertainment functions with a tap of your fingertips. The exclusive interior finishes, stemming from authentic Italian design, are made with the finest-quality materials: the upholstery is available in leather, Alcantara and-for the first time-Carbon Skin®, an innovative carbon fiber material exclusively available with Lamborghini. All these details make the on-board experience even more unique and refined.
A look at Lamborghini's incredible new 8.4 inch touchscreen display!
All the systems controlling the driving dynamics were updated, while new technologies were introduced to guarantee maximum performance of the Evo. The Lamborghini Inertial Platform (LIP) provides accurate real-time updates of the car's behavior. The vehicle's vertical dynamics are managed by the magnetorheological suspension (LMS) system. Additionally, its lateral dynamics are handled by a steering system which engages the four wheels through the Lamborghini Dynamic Steering (LDS) and the Lamborghini All-wheel Steering (LAWS) systems, aided by the constant distribution of the torque between the two axles (AWD) and the torque vectoring system. Combined with traction control, these systems also govern longitudinal dynamics. All of that is supervised by the Lamborghini Integrated Vehicle Dynamics (LDVI) system, a centralized controller capable of interpreting the pilot's intentions and seamlessly adapting the vehicle's behavior to them. This way, the driving emotion remains unparalleled within the segment.
LDVI
| | |
| --- | --- |
| Lamborghini Integrated Vehicle Dynamics (LDVI) is the technological brain of the EVO, capable of coordinating a complex and sophisticated system for the management of driving dynamics. Based on the driver's input, the external environment and the selected driving mode, LDVI can anticipate the wishes of the driver, shifting from an underlying feedback logic to a 'feed-forward' one, from reaction to anticipation: this is the real evolution. | |



HMI
| | |
| --- | --- |
| The new human-machine interface is the ultimate expression of the EVO's natural and technological evolution. While traditional buttons become de-materialized, the central tunnel features an 8.4" multi-touch capacitive screen. A simple tap of your finger controls all driving dynamics, manages entertainment functions, receives real-time information on traffic and adapts the cockpit lights to the current driving mode. The system offers advanced connectivity as never seen before on a Huracán, matched by a new telemetry system that features two cameras to further improve your driving skills. | |
AERODYNAMICS
| | |
| --- | --- |
| The EVO design was carefully engineered to improve aerodynamics. The front splitter creates a double airway underneath the body, and new flaps allow for additional aerodynamic load, five times higher than the previous Huracán model, which presses the vehicle downwards for an even smoother driving experience when braking and accelerating, as well as cornering. Additionally, a new suspended spoiler is featured at the rear of the car, channeling air with improved aerodynamic efficiency. | |
ENGINE
| | |
| --- | --- |
| Totally renovated and reengineered, with optimized fluid dynamics both in the aspiration and exhaust, this is the V10 aspirated engine with the highest specific power. The new aspiration ducts are derived from the Lamborghini Motorsport expertise and make it possible to improve the responsiveness of the engine at any speed. The dual clutch transmission (LDF) was further enhanced to now achieve the highest performance. All of this finds a powerful expression in the even more vibrant and thrilling sound of the new lightweight exhaust system. | |
SUSPENSION
| | |
| --- | --- |
| The architecture of the Huracán EVO suspension forms overlapping quadrilaterals which guarantee a perfect balance between the vehicle's nimbleness and its sports performance. The magnetorheological shock absorbers instantaneously react to the pilot's driving style, adapting to the road conditions and the driving dynamics, thus improving the overall control of the car. | |
STEERING
| | |
| --- | --- |
| The Huracán EVO is equipped with an Electronic Power Steering (EPS) system, which seamlessly adapts to all driving styles in order to guarantee the best steering assistance, both on track and on the road, while sustaining all the ANIMA driving modes. The EPS is also supported by the Lamborghini Dynamic Steering (LDS) system, which provides a dynamic variation of the steering ratio, changing according to the vehicle's dynamic conditions. | |
TRANSMISSION
| | |
| --- | --- |
| Imagine you could use two clutch mechanisms in the same unit: while one gear is engaged, the other is already selected to cut the engagement/disengagement time to a minimum, a double mechanism that allows the clutch to work as instantaneously and seamlessly as possible. This is what the Huracán EVO delivers, thanks to its 7-speed Lamborghini Dual Clutch (LDF) transmission. | |
TRACTION
| | |
| --- | --- |
| The four-wheel drive is electronically controlled and guarantees higher speed and precision in distributing the torque between the axles. All of this translates into improved control within any driving condition. The system continuously adapts the distribution according to the selected driving mode and the response from the road. The result is sensational: improved power transfer when cornering and accelerating on a sporty ride and, at the same time, improved traction and safety during everyday trips. | |

ALL-WHEEL STEERING
| | |
| --- | --- |
| The Huracán EVO features a unique combination of the active front steering system (Lamborghini Dynamic Steering) and the rear system (Lamborghini All-wheel Steering), offering the best dynamic performance. The LDS system adapts to the speed and the driving mode selected by moving from direct steering to a more indirect mode, while the LAWS system handles the rear steering axle by means of two electromechanical actuators. At low speeds the rear axle steers in the opposite direction relative to the front axle, leading to a virtual reduction of the wheelbase, providing greater nimbleness and unrivalled cornering performance. At high speed, the two axles rotate in parallel, generating a virtual increase of the wheelbase, thus guaranteeing full control of the car and excellent stability. | |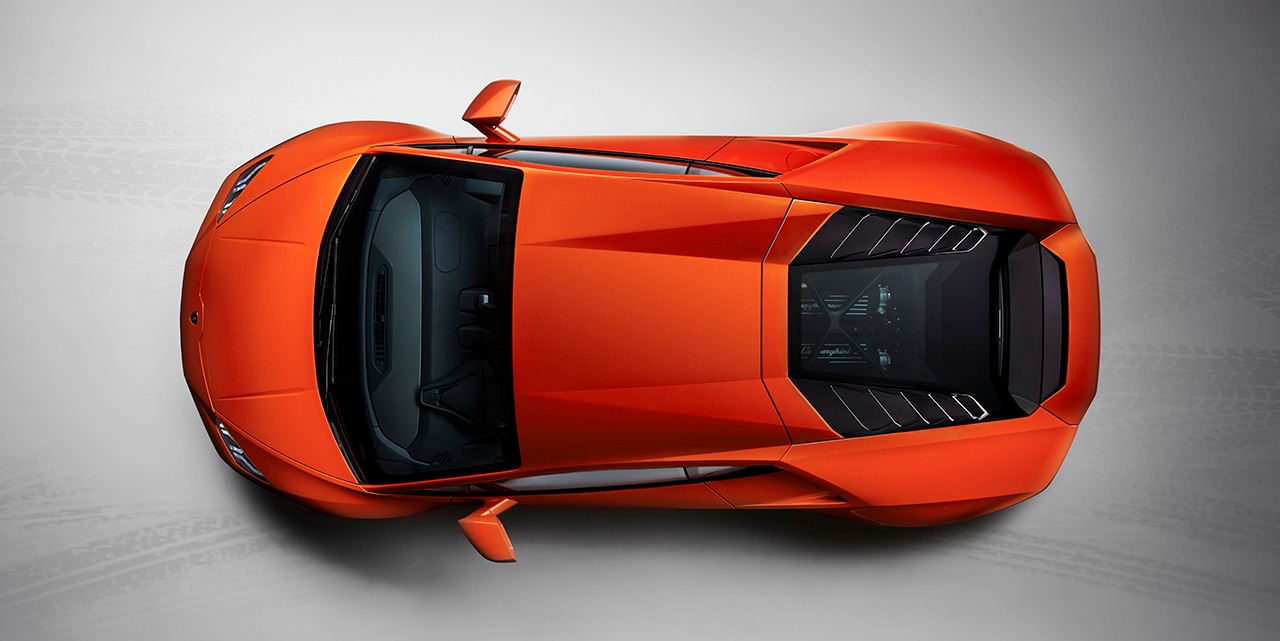 TECHNICAL SPECIFICATIONS
| | |
| --- | --- |
| ENGINE | |
| Type // | V10 |
| Maximum power // | 640 HP @ 8,000 RPM |
| Maximum torque // | 600 lb ft @ 6,500 RPM |
| | |
| PERFORMANCE | |
| Top speed // | > 202 mph |
| Acceleration 0-62 mph // | 2.9 s |
| | |
| TRANSMISSION | |
| Type // | 7-speed Lamborghini Dual Clutch (LDF) transmission |
---